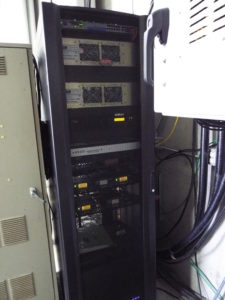 The Plano Amateur Radio Klub operates five repeaters, which are located in Allen, Texas about 180 feet above ground level. All licensed amateur operators are welcome to join us on the air, all repeaters are open.
147.180 MHz + (PL 107.2) K5PRK VHF Voice repeater
444.250 MHz + (PL 79.7) K5PRK UHF Voice repeater
441.575 MHz + DStar UHF Digital Voice Port B
1295.000 MHz -20.000 DStar 23 cm Digital Voice Port A
1255.000MHz  DStar 23 cm Digital Data
The county and metroplex are well covered for APRS on the standard 144.390 MHz, so we have not added any digipeaters on that frequency.
For special events, like the Plano Balloon Festival, Wild Ride, and MS150 we  have a off-frequency APRS digipeater and I-Gate (Internet Gateway) K5PRK-11 on 144.340 MHz. With additional digi/I-gates W5MRC-14 in Melissa and W5NGU-4 in Denton on 144.340 Collin and Denton counties are well covered for special events.
In support of Collin County ARES, PARK has installed a VHF RMS Paclink node K5PRK-10 at the club repeater site, which operates on 145.090 MHz 24/7.
Collin County ARES has divided the county into 4 quadrants — separated by Hwy 380 between north and south and U.S. 75 between east and west. Each quadrant is assigned a frequency and there can be multiple Paclink stations in each quadrant.  The idea is to create areas small enough that any Winlink station will be able to hear any other Winlink station in its quadrant to minimize interference.
To connect you will need to know the Paclink station ID and its frequency.  Below are the current Paclink stations set up for emergency traffic (or for testing your Winlink setup.) Keep the list with your Winlink client station so you will have alternatives depending on where you may be deployed. The winlink.org website has up to date maps of VHF Packlink Stations and the last time they checked in.
The Collin County Paclink Stations by quadrant are:
North West – 145.070 MHz Station: KD5CTQ-10
North East – 145.050 MHz Station
South West – 145.030 MHz Station: K5BAD-10 & W5RAE-10
South East – 145.090 MHz Station: N5BYL-10, KI5FU-10, K5PRK-10 & K5EEN-10