I know many companies are older than 50 years old, but for our little ham radio "Klub" K5PRK, we are happy to be celebrating 50 straight years of ham radio activity. 
We will be celebrating our Golden Jubilee with several specific activities: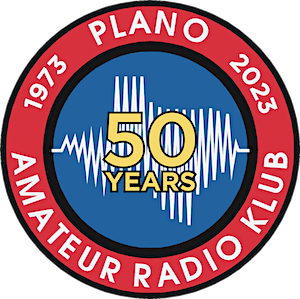 1 – The club has a special logo for just this year. We felt it important to really make it evident that PARK has been active for 50 straight years and that is quite an accomplishment. So the logo has a gold 50 added to the middle for this year. You will find this new logo in more and more places this year – including some special memorabilia that will be available on…
2 – The Club Web Site has a special section just for our Golden Jubilee. It will have pages for our Jubilee Dinner, a page recounting special events in PARK club history, a page to order club memorabilia with the 50th anniversary logo on it, and a page for…
3 – K5PRK/50 Member Activation Contest. This contest will reward members who activate a special call sign – K5PRK/50 throughout the year. Maybe an hour here, or an afternoon there. Using an online logging tool, we will have a leaderboard of all those club members who have activated the club's special anniversary call through the year – with prizes to be awarded at the annual holiday party in December. 
4 – Lastly, but most importantly PARK will be holding a formal Golden Jubilee dinner event on July 17th for everyone- celebrating the club's accomplishments through the years, honoring past presidents, and more. Again, all are welcome. Tickets will be available for this special dinner event later this year. 
We have separate pages for each of these items.